Joe Haase Cup
2019 Results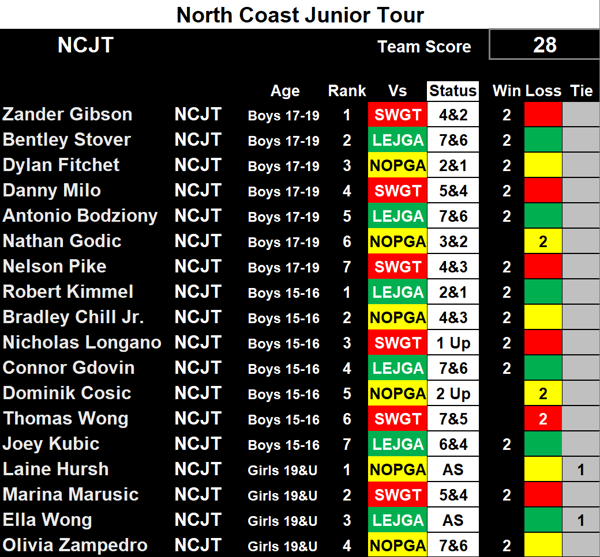 The Joe Haase Cup is an invitational team event. Earning a spot on the NCJT team is a big honor. Playing well and frequently on the North Coast Junior Tour is the best way to earn a spot on the team. Spots on the NCJT team are earned based on the final 2018 Classic Cup points list. Also, there are exemptions for champions of the Jim Dawson Match Play and the Tour Championship (provided the player has a scoring average of 85 or less (girls 90 or less) during the qualifying season). At the event, NCJT will compete against three other junior tours for the Joe Haase Cup (similar to the Ryder Cup). Invites are emailed to qualifiers in mid-January and invitees must accepted and register for the Joe Haase Cup by the February deadline to official lock in their spot on the team.
Alternates from the points list will be invited too, however they will only be accepted to the team when a qualifier has RSVP'd that they are unable to participate. Alternates should accept their invites so the committee will know they are able play. If a spot opens the committee will notice the alternates in order that a spot has opened and they will have a defined period to officially register to lock in the spot.
Deadline for Extra Brunch Tickets - April 30th. All tickets must be purchased in advance, no tickets are sold at the event.
2019 Team Makeup:
Boys 17-19 - 7 spots
Boys 16 & U - 7 spots
Girls 19 & U - 4 spots
18 Total Team Members
Firestone Agenda
9:30 AM Player Registration Opens
10:00 AM Brunch Begins (tables are assigned by team, name and party size)
10:15 AM Player Photo Station Opens (all players must take photo)
11:00 AM Joe Haase Cup Presentation
11:30 AM Brunch Ends/Range Opens (NCJT Team Photo - 1st Tee South)
11:55 AM Tee Times Begins on North Course
5:30 PM Cup Presentation

Purchase Mother's Day Brunch Tickets HERE
2019 Pairings (Posted 4/26/19)
Registration
May 12, 2019
- Joe Haase Cup
Tournament Courses:
Firestone Country Club (Akron, OH)
Registration Deadline:
Sunday, May 12 at Midnight
Eligibility:

Boys 12-19
Girls 12-19
Members
Non-Members
$140.00
$140.00
Late Fee:
$0.00 Late Fee Applies after 5/5/2019
Notes:
Invitations for the NCJT team are emailed in mid-January, the Deadline to register is February 1st.
Divisions
Boys 17-19 (JHC)
$140.00
Round #1 5/12/2019
Firestone Country Club - North
Blue - Par 72 - 6741 Yards
| Hole | 1 | 2 | 3 | 4 | 5 | 6 | 7 | 8 | 9 | 10 | 11 | 12 | 13 | 14 | 15 | 16 | 17 | 18 |
| --- | --- | --- | --- | --- | --- | --- | --- | --- | --- | --- | --- | --- | --- | --- | --- | --- | --- | --- |
| Handicap | 5 | 11 | 3 | 7 | 13 | 9 | 17 | 15 | 1 | 16 | 10 | 2 | 6 | 4 | 18 | 8 | 12 | 14 |
| Par | 4 | 4 | 4 | 4 | 5 | 3 | 5 | 3 | 4 | 4 | 3 | 4 | 4 | 4 | 4 | 5 | 3 | 5 |
| Yardage | 378 | 360 | 430 | 405 | 515 | 179 | 513 | 161 | 416 | 352 | 183 | 436 | 416 | 420 | 341 | 536 | 180 | 520 |
| | | | | | | | | | |
| --- | --- | --- | --- | --- | --- | --- | --- | --- | --- |
| Hole | 1 | 2 | 3 | 4 | 5 | 6 | 7 | 8 | 9 |
| Hcp | 5 | 11 | 3 | 7 | 13 | 9 | 17 | 15 | 1 |
| Par | 4 | 4 | 4 | 4 | 5 | 3 | 5 | 3 | 4 |
| Yds | 378 | 360 | 430 | 405 | 515 | 179 | 513 | 161 | 416 |
| | | | | | | | | | |
| --- | --- | --- | --- | --- | --- | --- | --- | --- | --- |
| Hole | 10 | 11 | 12 | 13 | 14 | 15 | 16 | 17 | 18 |
| Hcp | 16 | 10 | 2 | 6 | 4 | 18 | 8 | 12 | 14 |
| Par | 4 | 3 | 4 | 4 | 4 | 4 | 5 | 3 | 5 |
| Yds | 352 | 183 | 436 | 416 | 420 | 341 | 536 | 180 | 520 |
Boys 16&U (JHC)
$140.00
Round #1 5/12/2019
Firestone Country Club - North
White - Par 72 - 6388 Yards
| Hole | 1 | 2 | 3 | 4 | 5 | 6 | 7 | 8 | 9 | 10 | 11 | 12 | 13 | 14 | 15 | 16 | 17 | 18 |
| --- | --- | --- | --- | --- | --- | --- | --- | --- | --- | --- | --- | --- | --- | --- | --- | --- | --- | --- |
| Handicap | 5 | 11 | 3 | 7 | 13 | 9 | 17 | 15 | 1 | 16 | 10 | 2 | 6 | 4 | 18 | 8 | 12 | 14 |
| Par | 4 | 4 | 4 | 4 | 5 | 3 | 5 | 3 | 4 | 4 | 3 | 4 | 4 | 4 | 4 | 5 | 3 | 5 |
| Yardage | 367 | 342 | 403 | 389 | 504 | 147 | 492 | 145 | 401 | 334 | 162 | 415 | 394 | 405 | 327 | 524 | 146 | 491 |
| | | | | | | | | | |
| --- | --- | --- | --- | --- | --- | --- | --- | --- | --- |
| Hole | 1 | 2 | 3 | 4 | 5 | 6 | 7 | 8 | 9 |
| Hcp | 5 | 11 | 3 | 7 | 13 | 9 | 17 | 15 | 1 |
| Par | 4 | 4 | 4 | 4 | 5 | 3 | 5 | 3 | 4 |
| Yds | 367 | 342 | 403 | 389 | 504 | 147 | 492 | 145 | 401 |
| | | | | | | | | | |
| --- | --- | --- | --- | --- | --- | --- | --- | --- | --- |
| Hole | 10 | 11 | 12 | 13 | 14 | 15 | 16 | 17 | 18 |
| Hcp | 16 | 10 | 2 | 6 | 4 | 18 | 8 | 12 | 14 |
| Par | 4 | 3 | 4 | 4 | 4 | 4 | 5 | 3 | 5 |
| Yds | 334 | 162 | 415 | 394 | 405 | 327 | 524 | 146 | 491 |
Girls 19&U (JHC)
$140.00
Round #1 5/12/2019
Firestone Country Club - North
Red - Par 72 - 5589 Yards
| Hole | 1 | 2 | 3 | 4 | 5 | 6 | 7 | 8 | 9 | 10 | 11 | 12 | 13 | 14 | 15 | 16 | 17 | 18 |
| --- | --- | --- | --- | --- | --- | --- | --- | --- | --- | --- | --- | --- | --- | --- | --- | --- | --- | --- |
| Handicap | 9 | 13 | 11 | 7 | 1 | 15 | 5 | 17 | 3 | 12 | 16 | 8 | 6 | 10 | 14 | 2 | 18 | 4 |
| Par | 4 | 4 | 4 | 4 | 5 | 3 | 5 | 3 | 4 | 4 | 3 | 5 | 4 | 4 | 4 | 5 | 3 | 4 |
| Yardage | 343 | 265 | 380 | 363 | 451 | 127 | 447 | 116 | 388 | 308 | 104 | 405 | 380 | 320 | 278 | 492 | 103 | 319 |
| | | | | | | | | | |
| --- | --- | --- | --- | --- | --- | --- | --- | --- | --- |
| Hole | 1 | 2 | 3 | 4 | 5 | 6 | 7 | 8 | 9 |
| Hcp | 9 | 13 | 11 | 7 | 1 | 15 | 5 | 17 | 3 |
| Par | 4 | 4 | 4 | 4 | 5 | 3 | 5 | 3 | 4 |
| Yds | 343 | 265 | 380 | 363 | 451 | 127 | 447 | 116 | 388 |
| | | | | | | | | | |
| --- | --- | --- | --- | --- | --- | --- | --- | --- | --- |
| Hole | 10 | 11 | 12 | 13 | 14 | 15 | 16 | 17 | 18 |
| Hcp | 12 | 16 | 8 | 6 | 10 | 14 | 2 | 18 | 4 |
| Par | 4 | 3 | 5 | 4 | 4 | 4 | 5 | 3 | 4 |
| Yds | 308 | 104 | 405 | 380 | 320 | 278 | 492 | 103 | 319 |
Courses
Firestone Country Club - North
452 E Warner Road
Akron, OH 44319
+1 (330) 644-8441